There's always something to play at Laurel Oak – Sarasota's premier private country club, featuring two championship golf courses, 12 Har-Tru tennis courts, swim center and year-round family activities, plus weddings and exclusive events. Make lifelong friends in a relaxed, refined and welcoming atmosphere.
Laurel Oak Country Club
In the late 1980's, the Radnor Corporation, a developer of golf course communities, purchased the farm land that would eventually become Laurel Oak. In August of 1990, Radnor opened the West Course and clubhouse followed by the East Course opening in 1995.
Laurel Oak boasts two 18-hole courses designed by Gary Player and Rees Jones. "Each course has its own unique style and feel and you get a different experience each time you play," said the Director of Golf, Matt Auen.
From the "tips." the East and West Course of Laurel Oak are arguably the most challenging two-course combination offered in the Sarasota area. Both courses offer 7 rated tees -four for men and three  for women– allowing for a difficulty level appropriate for a seasoned and a beginner golfer alike.
Since gaining ownership on May 13, 1999, the Laurel Oak Country Club members have embraced the charitable spirit. They have raised nearly half a million dollars in the past several years for the Sarasota Special Olympics as well as being the site for the Michelob Ultra-Lite Tournaments and has hosted the U.S. Open qualifying tournament.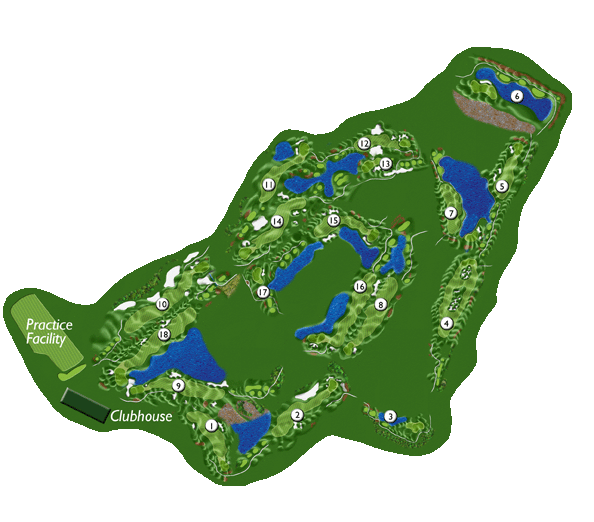 Players Course East
Designed by Golf Legend Gary Player the East course is breathtaking, challenging and meticulously maintained.
Scramble formats are probably the most enjoyable type of tournament play because only the best shots are played at each hole. All players tee off and from that drive, the best ball is selected. All players hit their next shots from that point and the best ball is again selected.
The process is repeated until the ball is "holed out" with a 2-putt limit. In each foursome, they must select at least two drives from each player for the eighteen hole tournament
Courses will be played on during the Tournament. Players handicaps, provided on the registration form, will determine which course your foursome will play. Course of play is assigned by I.U.P.A. and course officials.